table of contents reviews excerpts book discount where to buy lectures
"Based on a multitude of examples from the heterocosmos of invisible art practices, Dark Matter is the ultimate companion to contemporary activist art. In his exquisite and theoretically informed style Gregory Sholette investigates the problematic functions of art practices in the processes of neoliberal appropriation, but above all the wild explosive, and deterritorializing lines that are drawn in the dark matter between art and politics." Gerald Runig philosopher, art theorist and author of Art and Revolution.
"With great verve and urgency, Gregory Sholette explores the economics of contemporary art production in an era of neoliberalism, and outlines the promises and pitfalls of various tactics of resistance. Dark Matter is a salient call-to-arms to all cultural laborers." Julia Bryan-Wilson, art historian and author of Art Workers: Radical Practice in the Vietnam War Era.
"As both active participant and witness Greg Sholette sheds a welcome and overdue light on the dark matter of the so-called art world." Hans Haacke.
WHAT MATTERS
by Nicholas Merzoeff
AFTERIMAGE 38.6 BOOK REVIEW
Dark Matter: Art and Politics in the Age of Enterprise Culture
By Gregory Sholette Pluto Press, 2011 304 pp./$30.00 (sb)
In the past forty years, neoliberalism has radically transformed the place of art in globalizing societies. From a distinct set of art practices in specific locations, focused on a small number of international centers for art, has emerged a far more extensive set of "art worlds." These art worlds range from a seemingly endless supply of biennales, art fairs, and global galleries, to the proliferation of both local and national art galleries and activities. While the new omnipresence of "contemporary" art has been widely documented by art historians and critics, this place of creativity in the global economy has not been addressed by those versed in art and visual culture. Into this gap steps Gregory Sholette with an important new book that offers a counter-history of the rise of the global art world from the perspective of a politically engaged artist and activist. This book is far more than a conventional art history; it aspires to be a political economy of creativity under late capitalism.
The "dark matter" of the title is a metaphor borrowed from physics, in which the "dark matter" of the universe, invisible as it is, is nonetheless indispensable to its coherence. For Sholette, the invisible portion of the global creative economy is equally necessary, ranging from as-yet-unsuccessful artists to the fabricators who make work for "name" artists, all the way to those of us buying materials at art stores or attending exhibitions and gallery shows.
Sholette draws on thirty years of experience in art collectives and other forms of political art. His book details some of that experience while offering a set of analytic principles to measure the irresistible rise of art and the creative economy. In addition to his own work as an artist, Sholette has co-authored two well-known volumes: one with Blake Stimson, Collectivism After Modernism: The Art of Social Imagination After 1945 (2007), and the other with Nato Thompson, The Interventionists: Users' Manual for the Creative Disruption of Everyday Life (2004).
Neither cover nor title are altogether representative of the importance of this book. The blurbs and subtitle suggest a book wholly preoccupied with the anxieties of the present crisis. In fact, Sholette offers us an archival history of art in and as activism, drawing on his own experiences in New York City and Chicago, but with an impressive awareness of related activity worldwide. Dark Matter is a fascinating history of radical art collectives from the Art Workers Coalition of the 1970s, to Political Art Documentation/Distribution in the 1980s, REPOhistory in the 1990s, and a range of current groups such as Temporary Services, Yomango, and Critical Art Ensemble. Anyone with an interest in this work will learn a great deal from Sholette's account, well-illustrated with striking images often taken from his own archives. The book contains an abundance of intriguing detail. For example, we learn of the Mexican performance group Proceso Pentágono "staging mock kidnappings and automobile accidents on the streets of Mexico City as a public protest against the rise of a generic and bureaucratic urban modernism" (55). One thinks at once of Alejandro González Iñárritu's film Amores Perros (2000), which centers around automobile accidents and the legacies of the failed Mexican revolution of 1968—as well as the kidnapping crisis of recent years. Dark Matter is full of such provocative interactions.
Still, this is a much more significant project than the recuperation offascinating details about radical collectivity. Drawing on Italian Marxist theories of autonomy, Sholette shows that neoliberalism is "wholly dependent upon the presence/absence of that which it excludes, an ever-present oversupply of cultural production that is mechanically encircled and expelled" (40). There is a systemic need to overproduce culture, whose capacity to "mobilize excess" is precisely what "makes it an attractive model" (43). The "shadow economy" of cultural labor—all those adjuncts with PhDs, actors working as waitstaff, classical musicians performing at children's birthday parties—sustains and stabilizes the "high culture industry" from which it is excluded (44).
Far from being a pessimist, however, Sholette discerns in a range of new cultural practices the old goal of turning "art into life" (106)—that is to say, the attempt to erase the distinctions between culture as a commodity and the practices of everyday life. At some points, he seems to suggest that the "dark matter" is "coagulating" (40), perhaps offering a different social formation. His conclusion points more to "flashes of defiance" (188), ranging from workplace resistance to artistic performance and interventions. Almost as soon as Dark Matter was published, the current revolutionary wave began spreading across North Africa and the Middle East—a refusal by youth to maintain the precariousness of neocolonial labor under dictatorial regimes, making use of networked tools and defiant street performance. This is just what Sholette is hoping for, what his book suggests is possible, and is perhaps the best testament to the truth of Dark Matter.
NICHOLAS MIRZOEFF teaches at New York University and is the author of The Right to Look: A Counterhistory of Visuality (2011).
AFTERIMAGE 38.6 BOOK REVIEW
DARK MATTER
by Larne Abse Gogarty
Art Monthly
March 2011
click to enlarge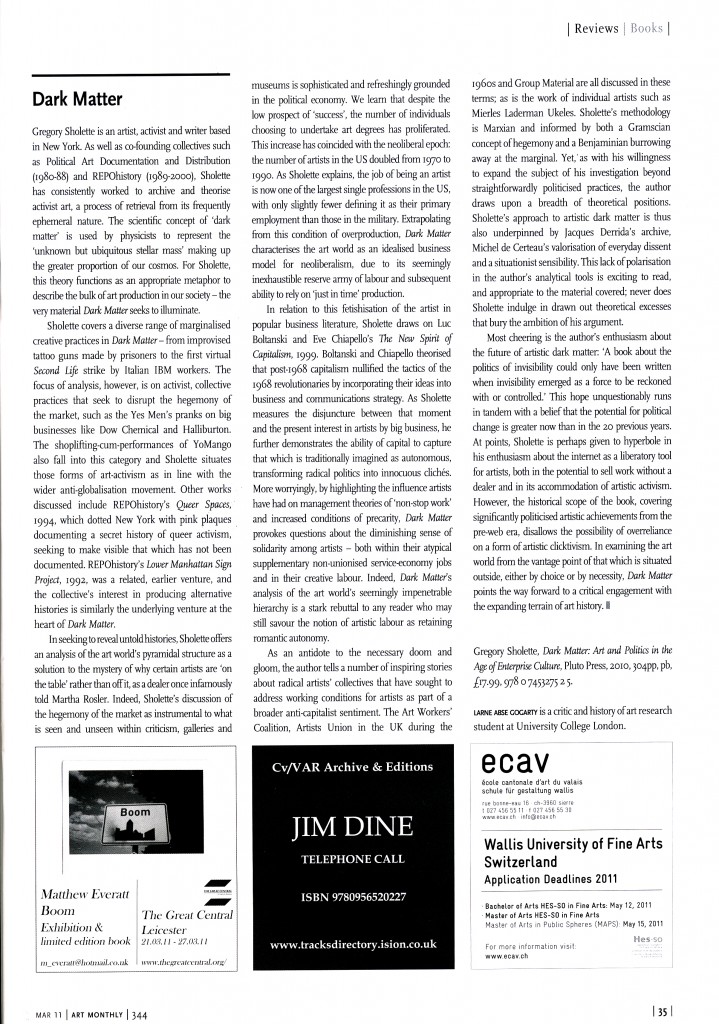 Dark Matter
by Jack Burton
The New Wolf June/2011
thenewwolf.co.uk/2011/06/dark-matter
We are all surplus: why the dark matter of the artworld matters
by smizz
You ain't got no Picasso, Yo?!
February 2011
smizz.wordpress.com/2011/02/02/
"I'm dark matter! that's what I am!"
by Michael Eddy
Our Vitamin
March 2011
vitamincreativespace.blogbus.com/logs/110077252.html
A million conceptual art workers make a minority hyper rich
by Gwen Griffiths
Another Green World
March 2011
another-green-world.blogspot.com/2011/03/
The Reading List
by Catherine Kramer
Call Me Cat
July 2011
callmecat.com/index.php/page/view/reading_list
Art Monthly Show on Resonance 104.4FM
March 2011
Dave Beech and Larne Abse Gogarty discuss "On Ugliness" Dave's feature in the March 2011 issue 344 of Art Monthly and Larne's review of Gregory Sholette's book Dark Matter: Art and Politics in the Age of Enterprise Culture, Pluto Press 2010.
Inside the Artists Studio | Gregory Sholette
by Georgia Kotretsos
art:21 blog
May 2011
blog.art21.org/2011/05/27/inside-the-artists-studio-gregory-sholette/
Looking Deep Into the Dark Matter
by Molly Hankwitz
InterActivist Info Exchange
September 2013
http://interactivist.autonomedia.org/node/46870